HOW TO TIE A SARONG
Seafolly sarongs are designed to help you create your own style and feel confident at the beach. Made from 100% cotton, our sarongs are lightweight and breathable, making them the perfect accessory for a day in the sun.
There are many different ways to tie a sarong, depending on the look you want to achieve. Here are a few favourite variations: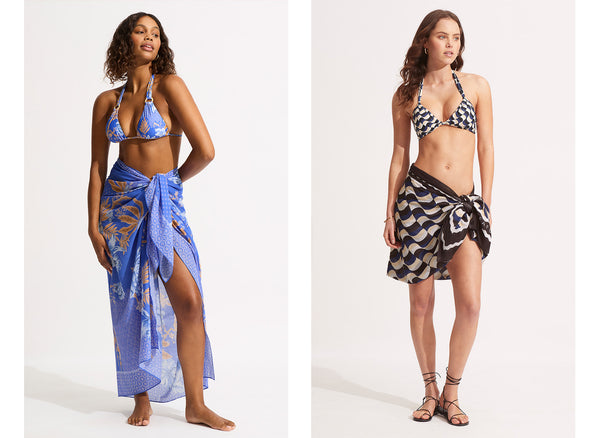 Skirt Style
Wrap the sarong around your waist, bringing the two corners to the front. Tie the corners in a knot at your hip, leaving the fabric loose to create a skirt. Adjust the fabric as necessary to create a cute mini skirt or a long flowing one!
You can also try making a high-low skirt by tying one end of the sarong higher than the other or achieve a ruched effect by gathering the fabric on one side of the knot. The possibilities are endless!
SHOP NOW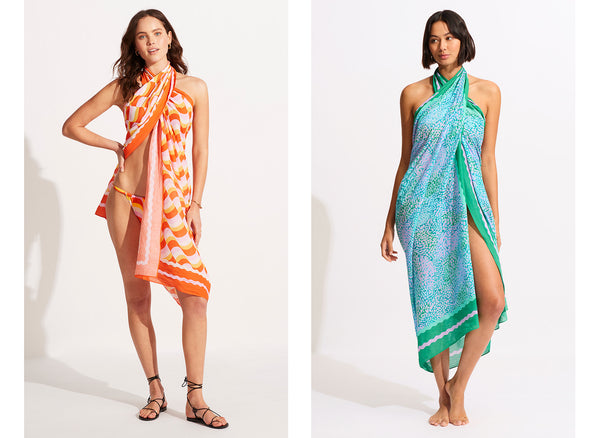 Halter Dress Style
Start with the sarong unfolded and hold it horizontally behind you, with the top edge of the sarong at the level of your bust. Tie the corners together behind your neck, creating a knot. Adjust the knot as necessary to ensure a comfortable fit. 
You can style this look with one of our tote beach bags to create a casual daytime look.
SHOP NOW
Strapless Dress Style
Hold the sarong behind you with the two corners in each hand. Bring the two corners together and tie them in a knot at your chest, covering your bust. Adjust the fabric as necessary to create a comfortable fit and a flowing dress.
Experiment with different styles, such as tying the two lower corners of the sarong in a knot at the side of your waist to create a side-slit effect.
SHOP NOW
There are many different ways to tie a Seafolly sarong, so have fun and get creative to achieve a style that is uniquely you!